Cookie Policy
At Royal Enfield, we believe in being clear and open about how we collect and use data related to you. In the spirit of transparency, this policy provides detailed information about how and when we use cookies. This cookie policy applies to any Royal Enfield product or service that links to this policy or incorporates it by reference.
 
Does Royal Enfield use cookies?
Royal Enfield uses cookies, web-beacons and other technologies when you use any of the Royal Enfield websites, mobile sites or web pages/forms (collectively "the services"). Cookies are used to ensure everyone has their best possible experience. Cookies also help us keep your account safe. By continuing to visit or use our services, you are agreeing to the use of cookies and similar technologies for the purposes we describe in this policy.
 
What is a cookie?
Cookies are text files containing small amounts of information which are automatically downloaded to your computer or device when you visit a website. Cookies send data back to the originating website on each subsequent visit, or shares data with another website that recognizes that cookie. For example, cookies enable us to identify your device, secure your access to Royal Enfield and our sites generally, and even help us know if someone attempts to access your account from a different device.
Cookies can do other relevant jobs, like letting you navigate between pages efficiently, remembering your preferences, and generally improving the user experience. They can also help to ensure that the advertisements you see online are more relevant to you and your interests.
For further information on cookies, including how to see what cookies have been set on your device and how to manage and delete them, visit http://www.allaboutcookies.org
 
What are cookies used for?

Cookies can be used to recognize you when you visit Royal Enfield (royalenfield.com), remember your preferences, and give you a personalized experience that's in line with your settings. Cookies also make your interactions with Royal Enfield faster and more secure. Additionally, cookies allow us to bring you advertising both on and off the Royal Enfield sites, and bring customized features to you through Royal Enfield plugins.
 
Categories of Use:-
Authentication: If you have registered to Royal Enfield, cookies help us show you the right information and personalize your experience.
Security: We use cookies to enable and support our security features, and to help us detect malicious activity and violations of our User Agreement.
Preferences, features and services: Cookies can tell us which language you prefer and what your communications preferences are. They can help you fill out forms on Royal Enfield more easily. They also provide you with features, insights, and customized content in conjunction with our plugins. You can learn more about plugins in our Privacy Policy.
Advertising: We may use cookies to show you relevant advertising both on and off the Royal Enfield site. We may also use a cookie to learn whether someone who saw an ad later          visited and took an action (e.g. registered for test ride, etc.) on the advertiser's site. Similarly, our partners may use a cookie to determine whether we've shown an ad and how it              performed, or provide us with information about how you interact with ads. We may also work with a partner to show you an ad on or off Royal Enfield, such as after you've visited a partner's site or application.
Performance, Analytics and Research: Cookies help us learn how well our site and plugins perform in different locations. We also use cookies to understand, improve, and research        products, features, and services, including when you access Royal Enfield from other websites, devices such as your work computer, etc.
 
When does Royal Enfield place cookies?

We use cookies on our websites (such as royalenfield.com and store.royalenfield.com), mobile sites and mobile applications. Any browser visiting these sites will receive cookies from us which helps us identify you more quickly when you return. We will not use "cookies" or other devices to follow your click stream on the Internet generally, but will use them, and other devices, to determine which pages or information you find most useful or interesting at our own Web sites.
 
What types of cookies does Royal Enfield use?

We use cookies of four categories: Session cookies, Functionality cookies, Analytical/Customization cookies and Advertising cookies.
Session Cookies: Session cookies enable the website you are visiting to keep track of your movement from page to page so you don't get asked for the same information you've              already given to the site. Cookies allow you to proceed through many pages of a site quickly and easily without having to authenticate or reprocess each new area you visit. These only last for as long as the session (usually the current visit to a website or a browser session).
Functionality cookies. These cookies allow our Services to remember choices you make, such as: remembering your username, preferences and settings; remembering if you've filled in a survey or taken part in a poll or contest or otherwise reacted to something on through the Services, so you're not asked to do it again; remembering if you've used any of our Services before; restricting the number of time you are shown a particular advertisement; remembering your location; and enabling social media components like Facebook or Twitter. The aim of these cookies is to provide you with a more personal experience so that you don't have to reset your preferences each time you use our Services.
Analytical/Customization cookies. These cookies collect information about how visitors use and interact with our Services, for instance which pages they go to most often. These            cookies also enable us to personalize content and remember your preferences (e.g., your choice of language, country, or region). These cookies helps us improve the way our                    websites work and provide a better, personalized user experience.
Advertising cookies. These cookies record your visit to our websites, the pages you have visited, and the links you have clicked. They gather information about your browsing habits and remember that you have visited a website. We (and third-party advertising platforms or networks) may use this information to make our websites, content, and                                    advertisements displayed on them more relevant to your interests (this is sometimes called "behavioral" or "targeted" advertising). These types of cookies are also used to limit the          number of times you see an advertisement as well as to help measure the effectiveness of advertising campaigns.
To find out more about interest-based ads and your choices, visit these sites: Digital Advertising Alliance, the Network Advertising Initiative, and the Interactive Advertising Bureau (IAB) Europe.
Some of the cookies we commonly use are listed in our cookies chart below. Thislist is not exhaustive, but it is intended to illustrate primary reasons for certain types of cookies set by Royal Enfield and third parties on our websites. Third parties may also set certain cookies on your device when you use our Services. In some cases, the third party has been hired to provide certain services on Royal Enfield's behalf (e.g., website analytics). In other cases, our websites contain content or ads from third parties (e.g., videos, news content, or ads delivered by other ad networks). When your browser connects to those third parties' web servers to retrieve content, those third parties may set and use their own cookies on your device.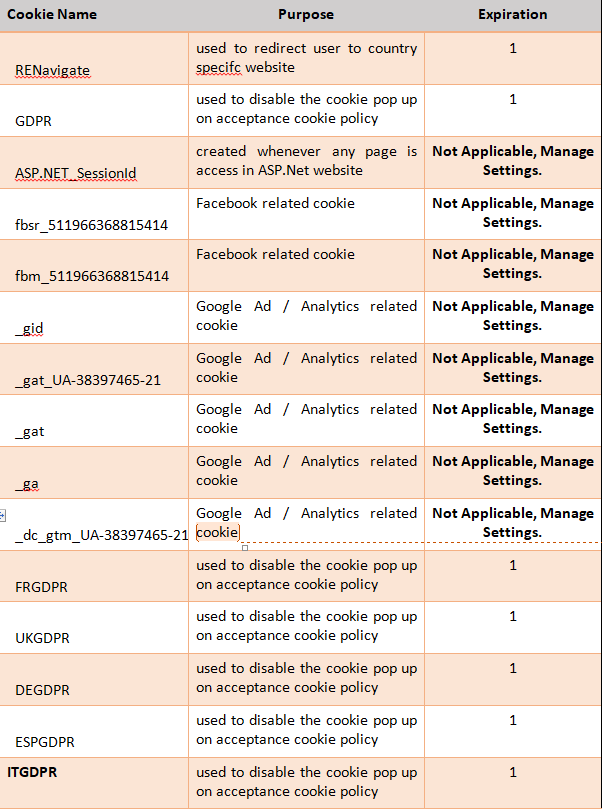 How cookies are used for online analytics purposes?

We may use third-party web analytics services on our Services, such as those of Google Analytics. These service providers use the sort of technology described in the Automatically-Collected Information section above to help us analyze how users use the Services, including by noting the third-party website from which you arrive. The information collected by the technology will be disclosed to or collected directly by these service providers, who use the information to evaluate your use of the Services. We also use Google Analytics for certain purposes related to online marketing, as described in the following section.
How are cookies used for advertising purposes?

Cookies and other ad technology such as beacons, pixels, and tags help us serve relevant ads to you more effectively. They also help us provide aggregated auditing, research, and reporting for advertisers, understand and improve our service, and know when content has been shown to you.
We do not serve third party advertisements to you while using royalenfield.com.  However, we do work with website analytics and advertising partners, including Google Display Network, Facebook, etc. to deliver Royal Enfield advertisements on third party publisher websites - these partners may set cookies on your computer's web browser. These cookies allow our partners to recognize your computer so that the ad server can show you Royal Enfield advertisements elsewhere on the Internet, and so that our analytics software can measure your engagement and interactions while using royalenfield.com. In this way, ad servers may compile anonymous, de-identified information about where you, or others who are using your computer, saw our advertisements, whether or not you interacted with our advertisements, and actions performed on subsequent visits to royalenfield.com. This information allows an ad network to deliver targeted advertisements that they believe will be of most interest to you, and it allows Royal Enfield to optimize the performance of our advertising campaigns and the usability of our website. In other words, we use analytics data in concert with data about our online ads that have been shown using the Google Display Network, Facebook for Advertisers, or other online advertising networks. By doing so, we can understand how anonymous users interacted with our website after seeing our ads.
What third-party cookies does Royal Enfield use?

Please note that the third parties (advertising networks and providers of external services like web traffic analysis services) may also use cookies on our Services. Cookies on our sites. Also, note that the names of cookies, pixels and other technologies may change over time.
We used trusted partners like Google Display Network, Google Maps, Facebook Ad Network, Google DoubleClick, Twitter and similar platforms to help us service advertising by placing cookies on your device. We also pull through content from social networks into our own pages, such as embedded Twitter feeds. The social networks, such as Facebook, Twitter, Youtube, Instagram, Google, etc. may themselves also put cookies on your machine. For example, our website also utilizes the Facebook Like button functionality to share content. If a user clicks the Like button and logs into Facebook via our website, Facebook will leave a cookie on the users' computer. This is the same process as if the user logs into Facebook directly, or clicks Like on any other website.
We also use Google Analytics on our Services to help us analyze how our Services are used. Google Analytics uses performance cookies to track customer's interactions. For example, by using cookies, Google can tell us which pages our users view, which are most popular, what time of day our websites are visited, whether visitors have been to our websites before, what website referred the visitor to our websites, and other similar information. All of this information is anonymized.
We also use Google maps services on our website, through which the location of the users are identified to allow users to avail various services offered by us.
We have little control over these 'third party' cookies, so we suggest that you check the respective privacy policies for these external services to help you understand what data these organisations hold about you and what they do with it.

Facebook: https://www.facebook.com/policy.php
Google AdWords: https://support.google.com/adwords/answer/2549116?hl=en
Google Analytics: http://www.google.com/analytics/learn/privacy.html
Google Tag Manager: https://www.google.com/analytics/tag-manager/faq/
Google+: https://www.google.com/policies/privacy/
Google maps : https://policies.google.com/privacy
Twitter: https://twitter.com/privacy?lang=en
YouTube: https://www.youtube.com/static?template=privacy_guidelines
XAXIS: https://www.xaxis.com/privacy-notice/

Our use of Web Beacons
We may also use electronic images known as web beacons on our Services - sometimes called "clear GIFs", "single-pixel GIFs", or "web bugs". Web beacons are used to deliver cookies on our Services, count clicks/users/visitors, and deliver co branded content or services. We may include web beacons in our promotional e-mail messages or other to determine whether messages have been opened and acted upon.
Royal Enfield Services may also contain web beacons from third parties to help us compile aggregated statistics regarding the effectiveness of our promotional campaigns or other website operations. These web beacons may allow the third parties to set or read cookies on your device.
How can you control cookies?

Most browsers allow you to control cookies through their settings preferences. However, If you choose to turn off these cookies you will still see advertising on the internet but it may not be tailored to your interests. It does not mean that you won't be served any advertisements whilst you are online.  Whilst many companies involved in using advertising cookies and serving online behavioral advertising appear at the above link, not all do.  Therefore, even if you choose to turn off cookies used by all of the companies listed, you may still receive some advertising cookies and some tailored advertisements from other companies.  
There are a number of ways you can manage what cookies are set on your devices. Essential cookies, however, cannot be disabled. If you do not allow certain cookies to be installed, the website may not be accessible to you and/or the performance, features, or services of the website may be compromised.
You can also manage this type of cookie in the privacy settings on the web browser you are using.  Please see below for more information.
You can disable and/or delete cookies by using your browser settings.  Please note that if you use your browser settings to block all cookies you may not be able to access parts of our or others' websites. The following links provide information on how to modify the cookies settings on some popular browsers:
●     Apple Safari
o   Step 1: Open Safari if it is not already open.
o   Step 2: Choose Safari > Preferences, and then click Privacy.
o   Step 3: In the "Block cookies" section, specify if and when Safari should accept cookies from websites. To see an explanation of the options, click the Help button (question mark).
o   Step 4: If you want to see which websites store cookies on your computer, click Details.
●     Google Chrome :
o   Step 1: On your computer, open Chrome.
o   Step 2:  At the top right, click More Settings.
o   Step 3: At the bottom, click Advanced.
o   Step 4: Under "Privacy and security," click Content settings.
o   Step 5: Click Cookies.
o   Step 6: Under "All cookies and site data," click Remove all.
o   Step 7: Confirm by clicking Clear all.
●     Microsoft Internet Explorer
o   Step 1: Select the gear in the upper-right corner of the screen, then select "Internet Options". If you have the Menu Bar enabled, you can select "Tools" > "Internet Options".
o   Step 2: Click the "Privacy" tab.
o   Step 3: Select the "Advanced" button.
o   Step 4: Under "First-party Cookies" and "Third-party Cookies", choose one of the following:
o   Step 5: Accept – To automatically accept cookies.
o   Step 6: Block – To automatically block cookies.
o   Step 7: Prompt – To prompt with each cookie request. You can also check "Always allow session cookies" if desired. Select "OK" when done.
o   Step 8: Select the "Sites" button if you wish to set options for specific websites. Under this section, type the website in the "Address of website" field, then select to "Block" or "Allow" cookies on that website. Click "OK" when you are done.
o   Step 9: Click "OK" and you have successfully set your cookie settings in IE11.
●     Mozilla Firefox
o   Step 1: Click the menu button and choose Options.Preferences.
o   Step 2: Select the Privacy & Security panel and go to the History section.
o   Step 3: In the drop-down menu next to Firefox will:Firefox will, choose Use custom settings for history.
o   Step 4: Uncheck Accept cookies from sitesAccept cookies from websites to disable them.
o   Step 5: Choose how long cookies are allowed to be stored:
Keep until:
they expire: Each cookie will be removed when it reaches its expiration date, which is set by the site that sent the cookie.
I close Firefox: The cookies that are stored on your computer will be removed when Firefox is closed.
o   Step 7: Close the about: preferences page. Any changes you've made will automatically be saved.
Your Choices

Royal Enfield provides you with a number of choices with respect to the information we collect and use as discussed throughout this Policy. 
Some of your choices include:
●     Marketing Communications.  If you purchase a product but do not wish to receive any additional marketing material from us, you can indicate your preference on our order form by leaving the "Opt-In" checkbox blank. If you no longer wish to receive our marketing and promotional emails, at all times have the option to unsubscribe by clicking here and to be forgotten and requiring your information to be expunged from our records by contacting myprivacy@royalenfield.com.
●     Royal Enfield Personalization Services: Royal Enfield may associate the information we automatically collect from you with identifiable information we have collected from and about you (such as your e-mail address or Royal Enfield user ID, etc.) to personalize your Royal Enfield experience.  Such personalization services may include providing tailored content, features, in-application communications and promotions, and personalized customer support.  If you do not want Royal Enfield to associate automatically-collected information with you, you may opt out at all times have the option to unsubscribe by clicking here and to be forgotten and requiring your information to be expunged from our records by contacting myprivacy@royalenfield.com. If you opt out we will still collect Royal Enfield device and usage information but we will only collect such data in a de-identified and aggregate form.
●     Tailored Online Advertising Opt-Out:  Royal Enfield strives to provide the public with relevant, value-added content in the form of online advertisements. However, we respect the wishes of anyone who does not want to be tracked by third party advertising companies online. Users may opt out of cookie-based online advertising and analytics programs by following the opt-out instructions provided by our advertising and analytics partners within our dedicated Cookies Policy as mentioned on this page.
Click on the link below to learn more about our Privacy policies.
https://royalenfield.com/privacy/