500 Cubic Centimetres: The History of Royal Enfield's Big Single
By Gordon G. May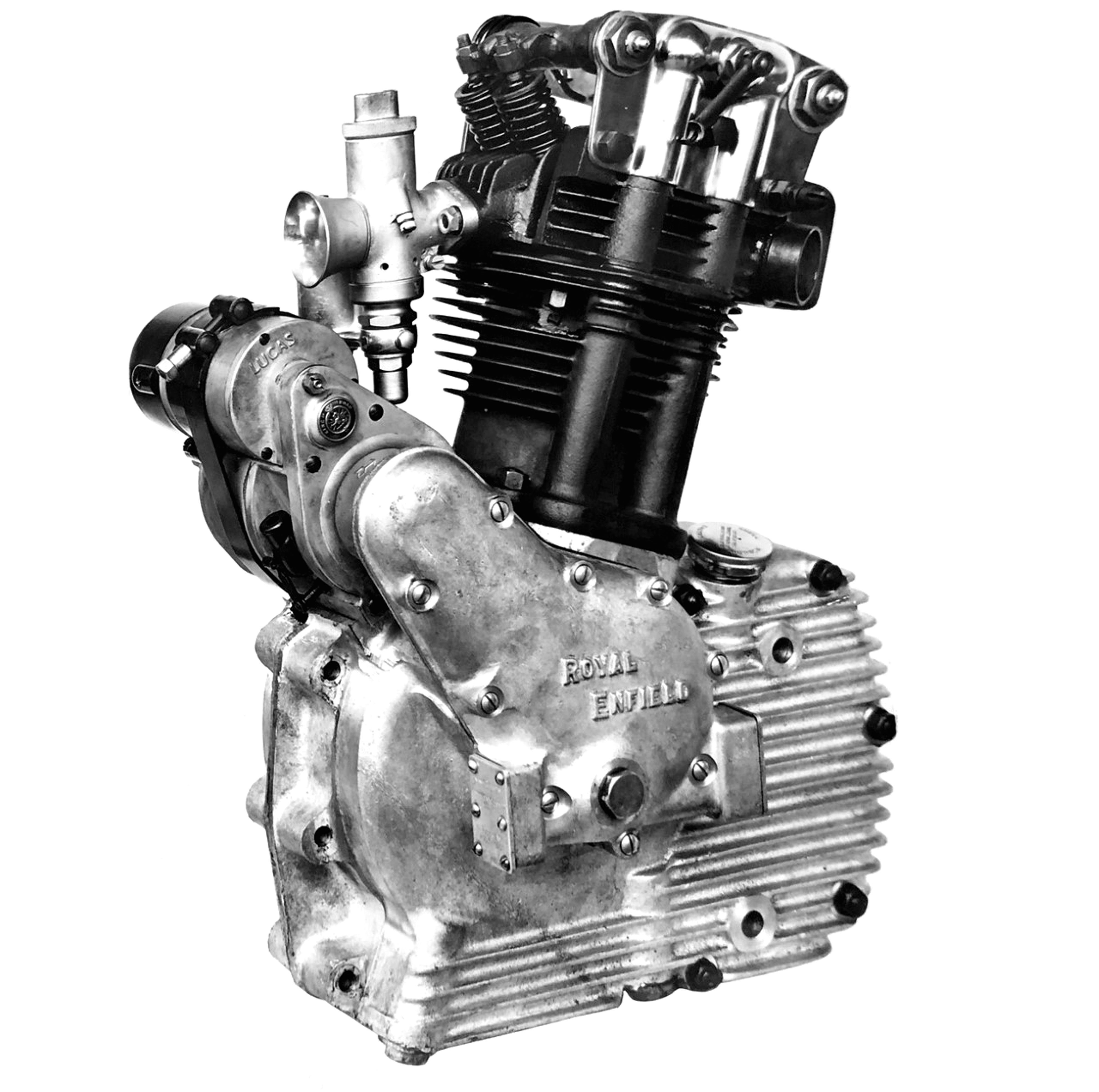 In Frame: A Royal Enfield 1934 LFV 500 Engine
Royal Enfield's first motorcycle went on sale in 1901. It was powered by a diminutive 1 1/2 hp single cylinder engine and small capacity singles were to remain the company's motors of choice until November 1909 when its first V-Twin was unveiled. After WWI, a two model policy was adopted; large capacity 976cc V-twins and small capacity 225cc 2-strokes, a strategy which covered both ends of motorcyclists' requirements, namely a powerful workhorse suited to hauling heavy sidecars, and a small capacity, lightweight and economical commuter. The middle ground, populated by many other manufacturers, was not addressed.
That changed in the mid-1920s, first with the adoption of JAP (JA Prestwich) 350cc engines in 1924, then Enfield's own 350cc engines in mid-1925. The next step was to develop a big single: in late 1926 the company launched their first at the renowned Olympia Motor Cycle Show in London. The Model 500 was powered by a 488cc side valve engine linked to a four speed gearbox by a hand change lever. The MotorCycle, Britain's leading weekly motorcycle magazine, grabbed one, mounted a sidecar on it and put it to test. It performed "its duties with a pleasing absence of fuss." Top gear "pulled down to 15 mph without snatch and in bottom gear it was found possible to travel appreciably slower than walking pace without slipping the clutch." Costing just £52, with electric lighting an extra £7, the future looked bright for the Enfield big single.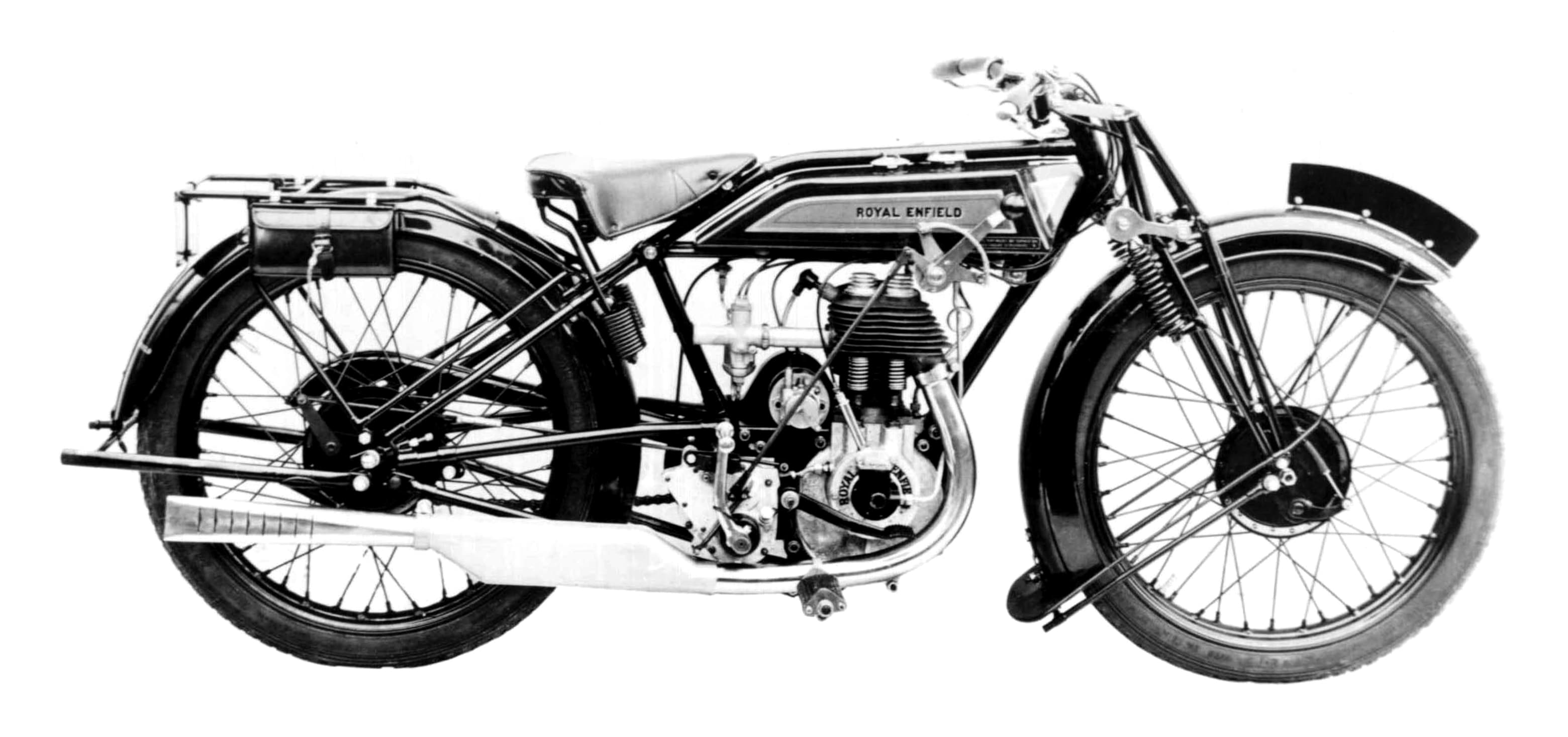 In Frame: The 1927 Royal Enfield 500 Side Valve
The next evolution came two years later when the company's first 500cc OHV engine was showcased at the 1928 Olympia Show. The 488cc two-port single was up with the times in design, with a double row caged bearing big end, an I-section steel con rod and an aluminium alloy piston. The magneto was located directly behind the engine and was chain driven by the inlet cam spindle. The Model 505, as it was known, cost £52 and was handsomely finished in "best black enamel" with the petrol tank painted beige with deep red panels.
In 1930 sloper engines were introduced, their cylinders and cylinder heads inclined forwards by 20 degrees. Of greater significance, however, was the introduction of dry sump lubrication and Royal Enfield's renowned plunger oil pump arrangement, both of which were to remain constant features of their motorcycles for the next 78 years.
Ridden on a by no means ideal stretch of highway, over a very carefully measured quarter of a mile, it was timed to do the distance in an average of 1/10th second over 9 seconds. This complete with its full compliment [sic] of mudguards and silencers. Good enough! One hundred miles per hour is 9 seconds dead and as the conditions were far from satisfactory, there remained no question in our minds that the Enfield concern's claim of being able to tune a model to accomplish 100 mph was perfectly justified."
In standard trim the engine put out 25 bhp but offered at the time of purchase was a 29 bhp racing kit with an 8:1 compression piston and straight-through pipes, mods similar to those made for the test. The engine's other notable features included its aluminium oil bath chain-case, four speed positive stop foot operated gearbox, Amal pump carburettor and push rod tubes cast into the cylinder. When later taken for a comprehensive road test, the 500 Bullet "cruised without any trace of effort at 70 mph. The engine ran, to use a hackneyed expression, like oiled silk. Indeed, it turned over so smoothly as to be really deceptive in the matter of speed." Praise indeed.
During the year the work's experimental department tested plain floating bush big end bearings. Tests were carried out in the field in two specially prepared 500cc LF Bullet racing engines, complete with bronze cylinder heads and straight-through racing pipes. Both bikes were entered in the Isle of Man Senior TT race. During practice, rider Cecil Barrow crashed and injured his arm too severely to compete and the other competitor, Jack Booker, was forced to retire in the fifth lap. The following year, however, Barrow rode the same machine with a much better result. Running 12th by the end of the first lap, he'd moved up to 7th place by the end of the fourth lap. Overtaken close to the finish line, the Enfield finished in a highly respectable 8th place, averaging 73.94 mph. Although this was to prove Royal Enfield's last work's outing on the hallowed TT circuit, it did pave the way for the future adoption of floating bush big ends in its engines.
1935 LO 500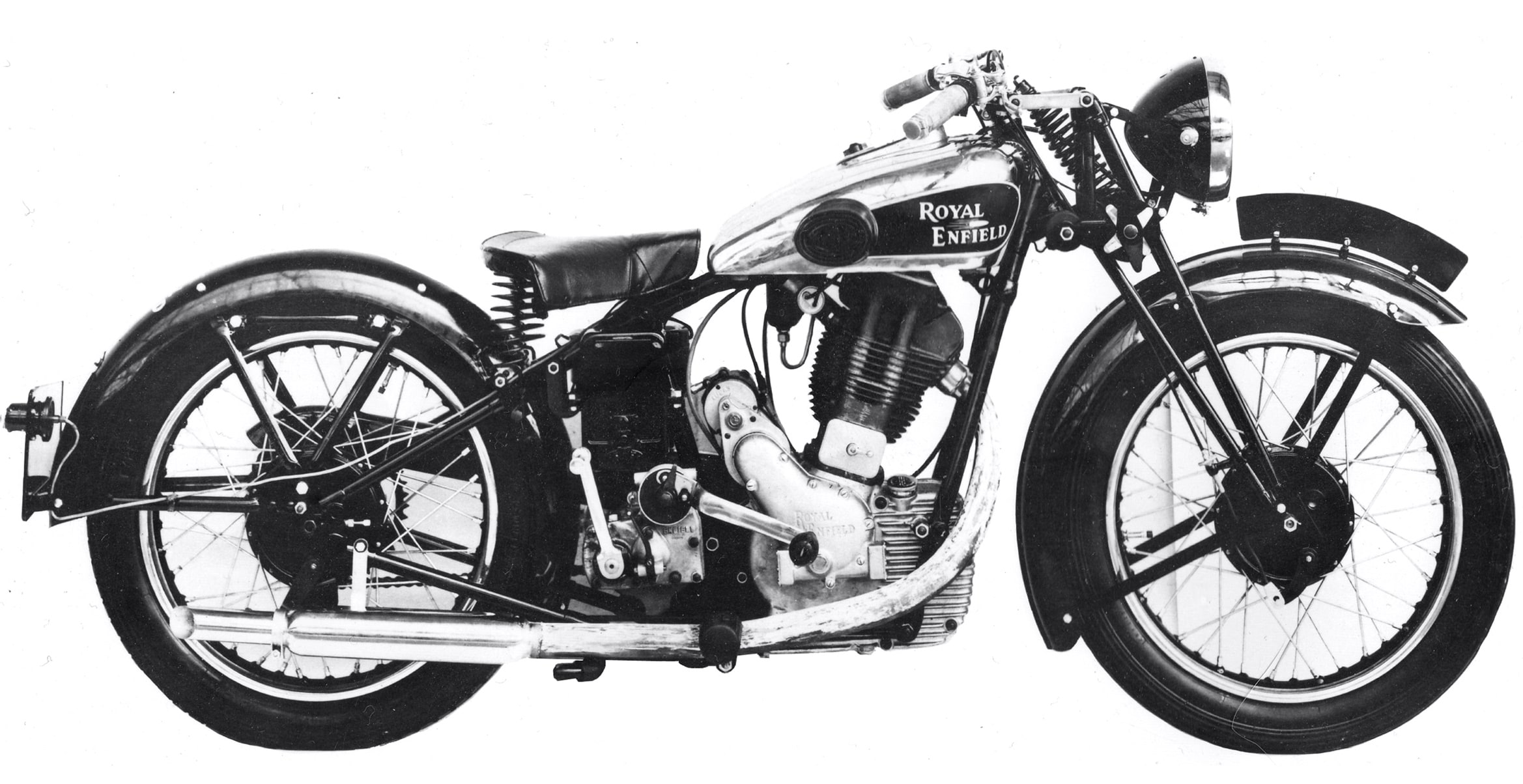 Two new sloper machines were announced in 1934 - the 148cc Model T and 248cc Model S. Both were a significant leap forward in engine design as their rockers and valve gear were fully-enclosed and topped with an easily removable aluminium cover. The benefits were clear: reduced valve wear and cleaner trousers for the rider! The 500cc engine for 1935, known as the LO 500 Bullet, had the same clean design, except that the previous four-valve arrangement was reduced to three, with two small inlets and a larger exhaust valve. This was an unusual and inventive arrangement, with both rockers placed at right angles to the normal position and the valve stems arranged vertically into the head. This meant that a steeply inclined inlet port and a carburettor with a high angle of down-draught could be fitted. New also was the tappet adjuster's location, now at the bottom of the pushrods and reached through a small aluminium cover plate. This became a sight familiar to owners of Royal Enfield big singles from this point until the arrival of the UCE engine in 2008.
When tested by The Motor Cycle in June 1935, the LO was reported to "revel in fast touring. Fifty-five miles an hour could be held indefinitely with absolute comfort." It continued: "Throughout the test the exteriors of the engine and gearbox remained free from oil." However, the LO was short-lived. Power was down on the previous four-valve model and during the test, the rider was only able to get the bike up to 70 mph, simply not rapid enough for a sporting single. A replacement 500cc Royal Enfield was announced in the Autumn.
To keep costs down, the beautiful aluminium horizontally split chaincase was replaced by a pressed steel vertically split cover. The heavyweight 4-speed gearbox, an updated Albion design, was, however, a big step forward. One feature of the JF, which its owners loved, was the rear wheel, which had a knock-out spindle that allowed swift changing of a punctured inner tube without removing the wheel. For clubmen racers, optional extras were a bronze cylinder head and high compression piston. The JF's finish was striking with its black stove enamel frame, brightly chrome plated 8" headlight, mudguards and twin exhausts system, plus a chrome-plated tank with a flourish of red on the sides and top. All this for 57 guineas (£59 17s).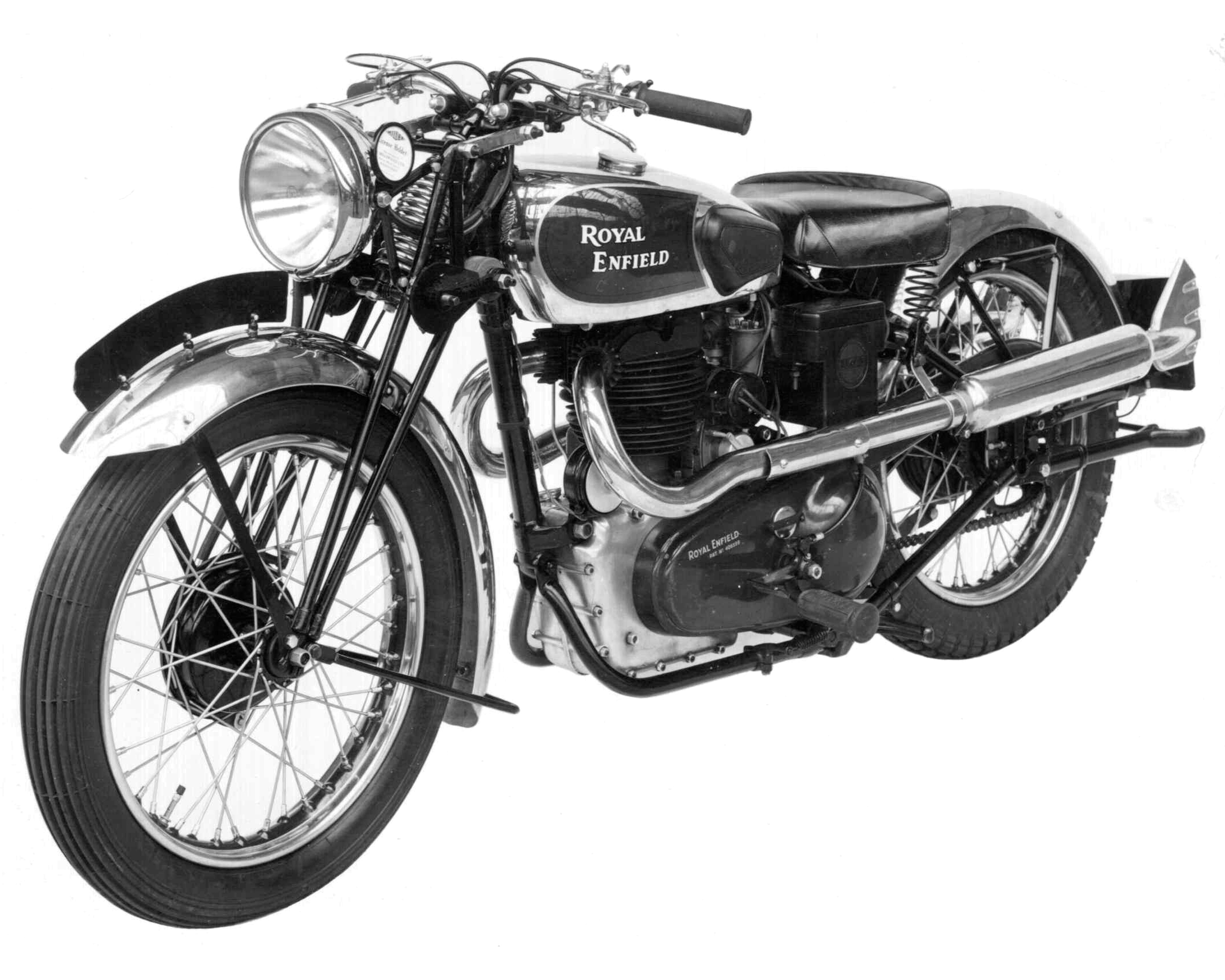 During WWII the RAF placed a small order for J2s and the model returned to the Enfield line up in 1948, except now with telescopic front forks and an oil filter cast into the bottom of the timing cover. Available with a choice of high or low level exhausts, the post-war J2 was an all-rounder and, increasingly towards the end of its production in 1954, a robust sidecar mount.
While the G2 350 Bullet put out 19 bhp and had a top speed of 70 mph, the beefier JS 500's maximum output was 25 bhp and could reach 85 mph. Both engines were housed in Royal Enfield's ground-breaking spring frame, the swinging arm rear suspension providing both comfort and improved handling. A 7" rear brake and double-sided 6" front brake were used for the 500, which was finished in polychromatic Copper Beech paint, a dark chocolate brown colour with a mild metallic finish.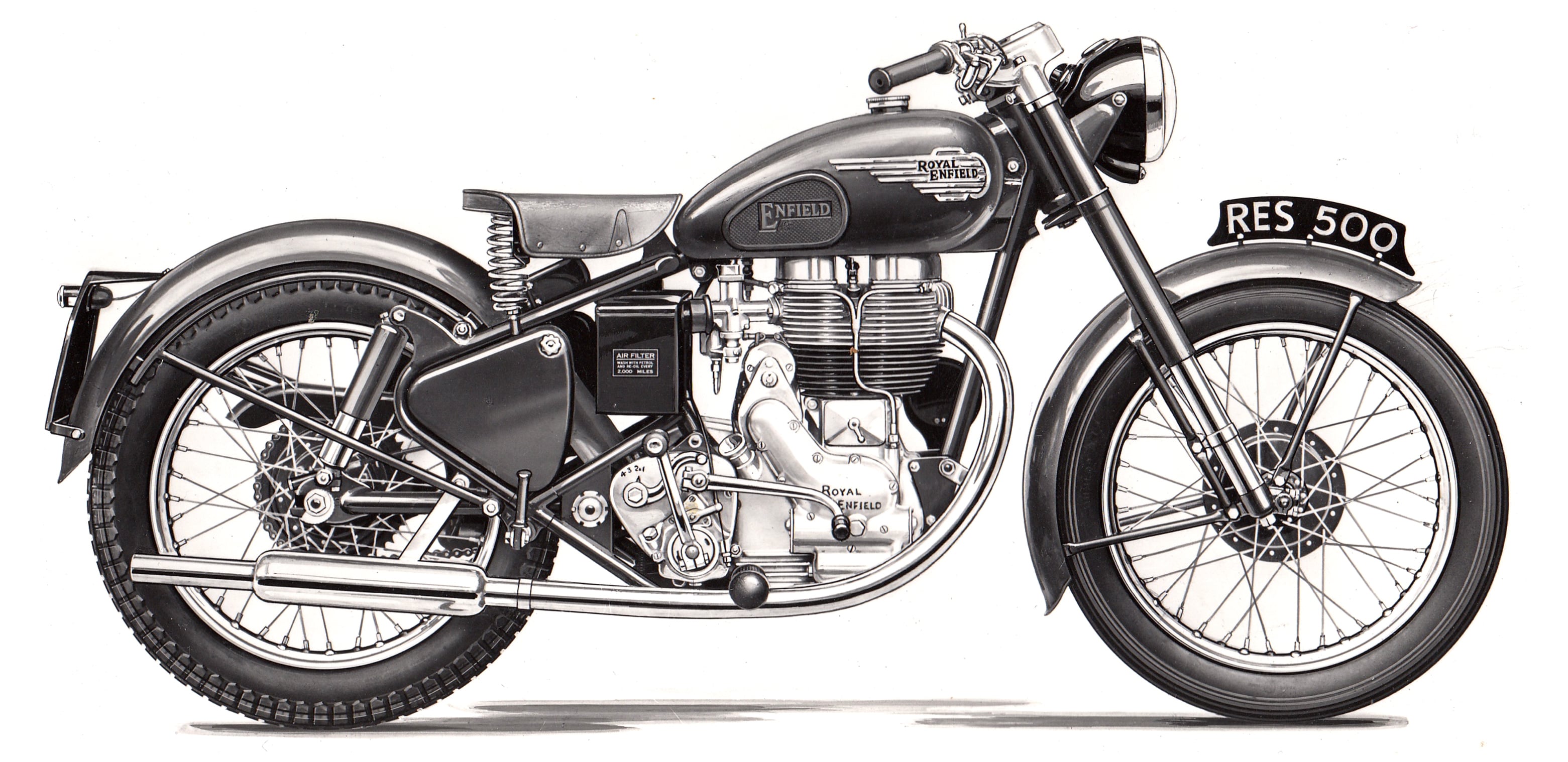 MotorCycling magazine said that the 500 Bullet's engine had "a fairly long stroke and at touring speeds the power output is excellent - restrained and with a noticeable lack of mechanical noise. Due to its dimensions, piston speeds are moderate, a factor contributing to minimised engine wear and tear, and an average of 75 - 80 mpg."
A highly-tuned version of the engine, fitted with an Amal 1 1/2" GP carburettor, was exported to the USA. Called the Fury, the machine had high rise handlebars, detachable headlamp and provision for a rev counter, making is quickly adaptable for desert races and scrambles.
Known as the Big Head Bullet, thanks to its chunky cylinder head, this engine came at a time when the motorcycle market was shifting to lighter-weight imported commuter bikes which, in combination with ever more affordable 4-wheel transport, dramatically affected the sales of traditional large capacity OHV singles. Production of this last Redditch-built big single ceased in 1962.
Based on the post-1956 Redditch JS 500 Bullet engine but re-tooled with many metric fittings and a 28mm Micarb VM28 carburettor, the Indian-built 500 featured coil ignition and alternator electrics. It retained Enfield's time-honoured bore and stroke of 70 x 90mm and produced 22 bhp. The same coarse gear Albion gearbox used in the 350 was more than able to cope with the additional power and the rolling chassis was identical.
Designed to give enhanced performance combined with improved reliability and markedly higher fuel efficiency, the Electra X had an 8:1 compression ratio with an aluminium alloy cylinder head and barrel, needle roller big end and a steel connecting rod. The oiling system was improved with the use of a trochoid oil pump, fuel was delivered by a 29mm CV (constant velocity) carburettor and electronic ignition fit. An Enfield 5-speed gearbox, a real gem, was bolted directly onto the back of the engine. Electric start came as standard, although a kickstarter remained a feature of the bike which many owners loved. The overall motorcycle package raised its game too, with gas-filled shock absorbers, a short sports silencer and a front disc brake.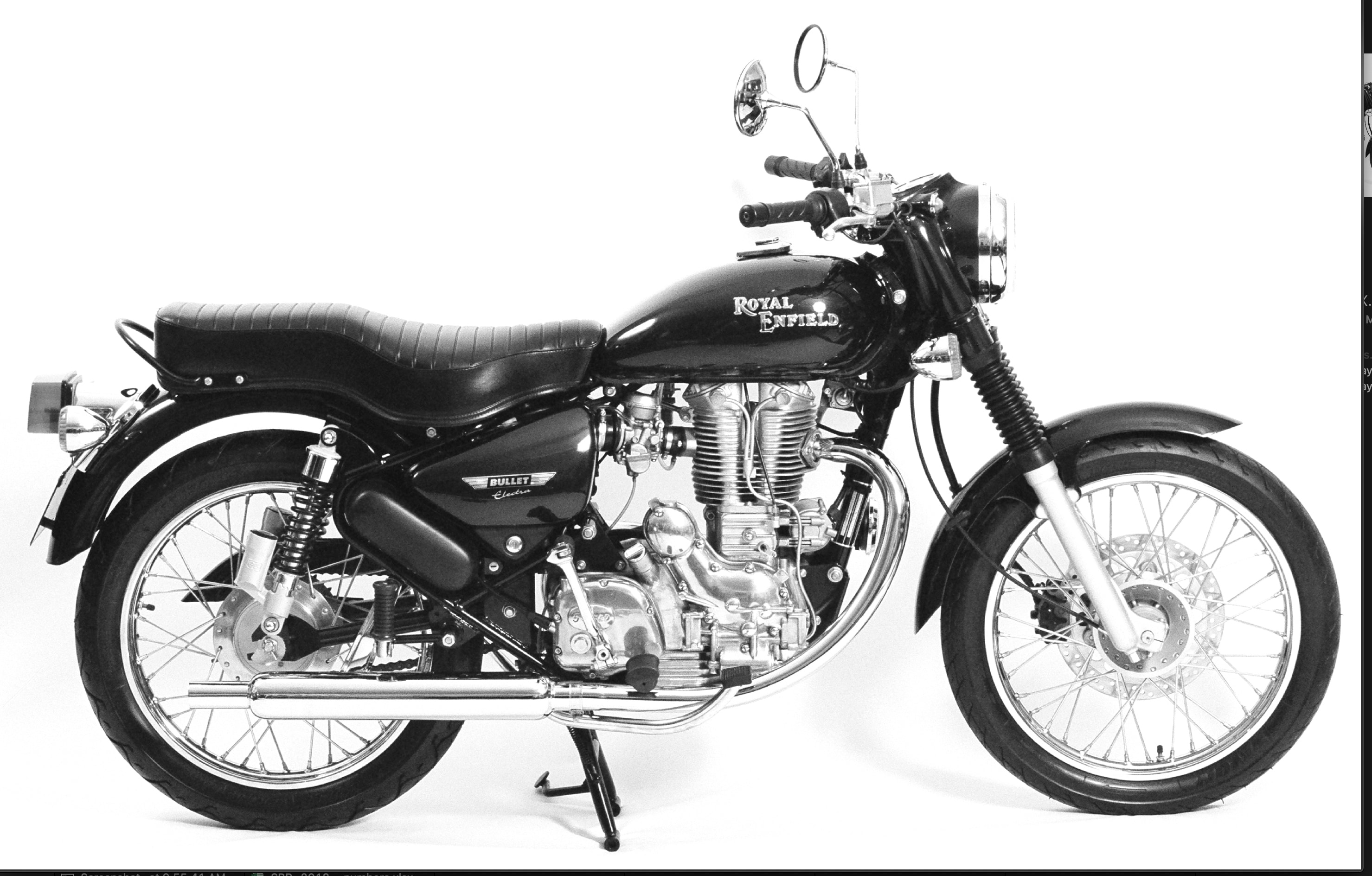 The 500cc Lean Burn engine's fuel efficiency became legendary when Classic Bike Guide's Jim Reynolds conducted a road test in the UK, steadily maintaining speeds in the 45-50 mph range. He wanted to see if the bike could achieve the magic figure of 100 mpg. The outcome: "106.7 mpg. Done it! … It was an honest country ride at a moderate cruising speed… if you're beginning to hurt your wallet at the pumps, this is a reminder that there is an alternative."
2008 UCE 500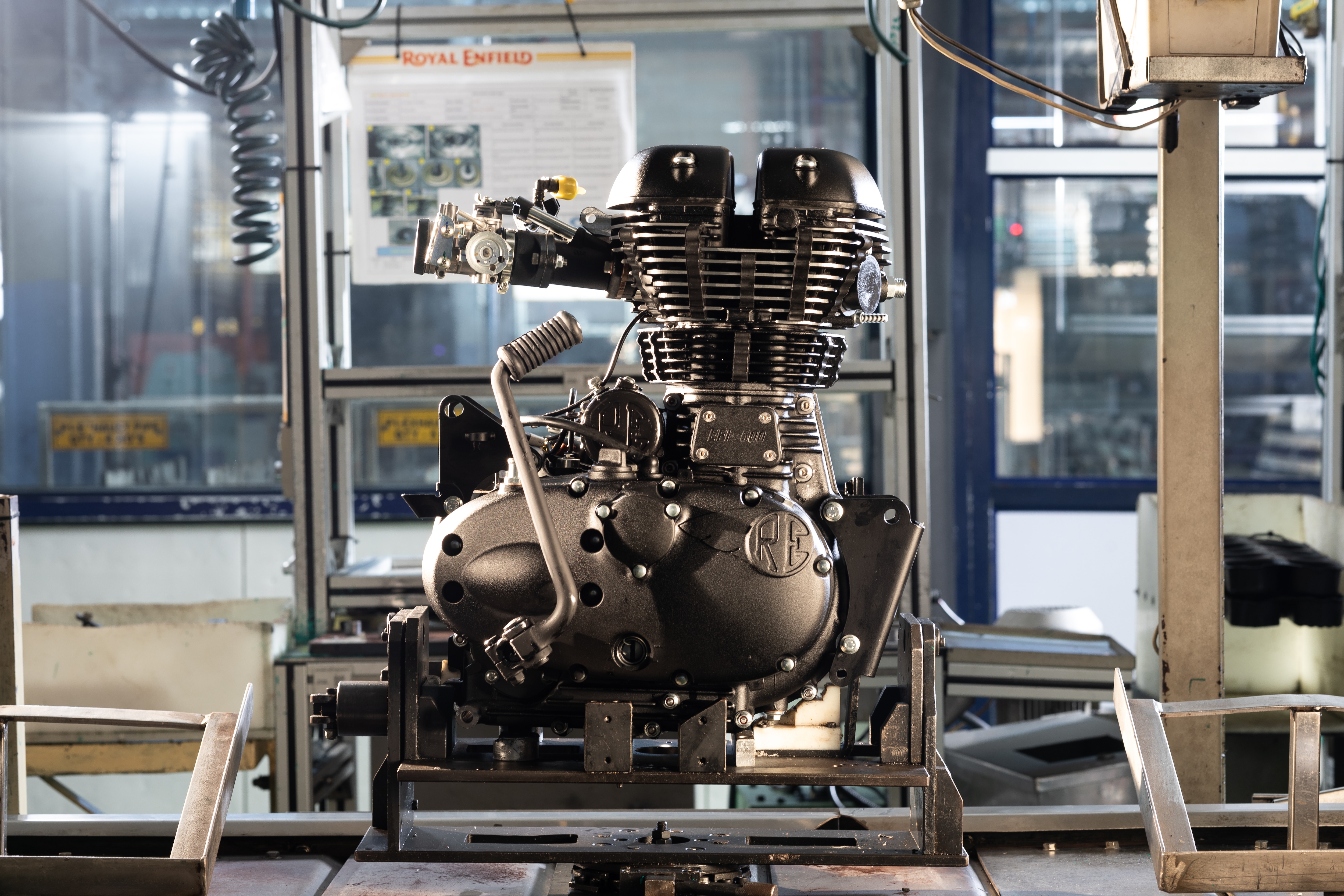 Royal Enfield's desire was to retain the characteristics and looks of a traditional British-style OHV push rod engine but with uprated performance for current riding conditions. However, keeping a classic 4-stroke single compliant with ever more stringent emissions standards was to become a constant challenge. A new engine design was needed to meet the latest Euro 3 regulations. While the Lean Burn Electra X was a significant step forwards for Royal Enfield, the new UCE 500 was superlative.
This 499cc model was launched to the international market in 2008 and in India the following year. Key design details were a gearbox integrated with the crankcases, electronic fuel injection, which was a first for Royal Enfield, hydraulic valve lifters, trachoid oil pumps, 7 plate wet clutch and an automatically tensioned primary chain. The result was 27.5 bhp with a beefy 41.3 Nm of torque at 4000rpm.
With its single seat and delightful retro-styling, the UCE Classic 500 won the hearts and minds of Indian riders and sales rapidly outpaced supply. Modern refinements included a 28mm front disc brake and gas-filled shock absorbers and these, combined with the engine's low-down torquey grunt, improved reliability and ease of service meant that it became the best-selling Royal Enfield 500 ever.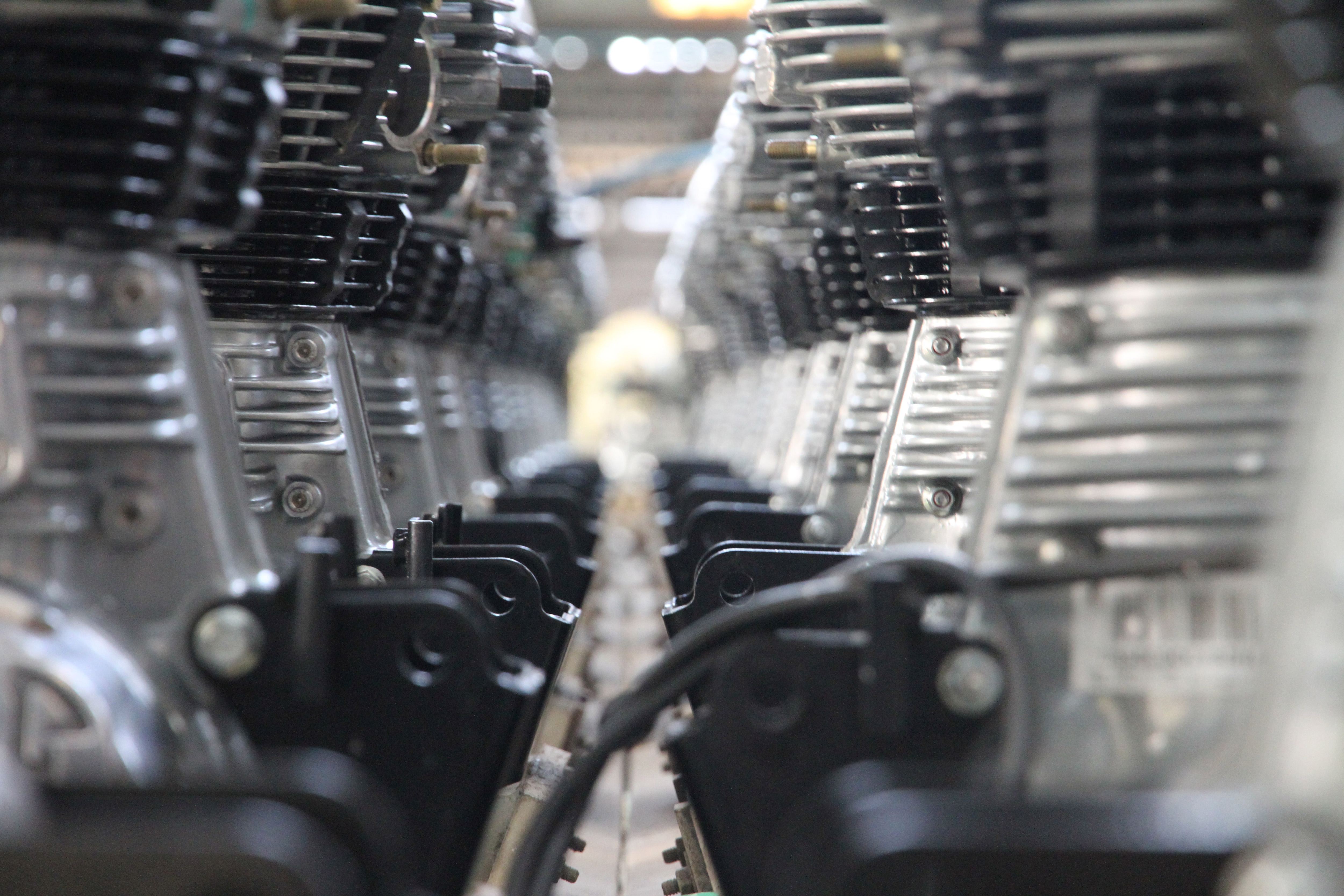 There have been many great Royal Enfield 500cc single cylinder engines through the years. They have given their owners sterling service in every field of use: as go-to-work commuters and sidecar luggers or as easy-going tourers and highly-tuned sports machines. And now, some 12 years on from the launch of the most successful example, BS6 emissions legislation has led to the end of UCE 500 production. Its swansong, in the gorgeous form of the Limited Edition Classic 500 Tribute Black, is without doubt a fitting finale for Royal Enfield's big single.