Early Made Like a Gun

In November 1891, entrepreneurs Bob Walker Smith and Albert Eadie bought needle and bicycle manufacturer George Townsend & Co of Hunt End, Redditch with the aim of producing their own bicycle range. The pair called their new venture the Eadie Manufacturing Co. Ltd. Their reputation for precision engineering led to an order to machine parts for the Royal Small Arms Factory (RSAF) of Enfield, Middlesex in 1892. The RSAF was a government-run establishment set up to produce muskets, swords and rifles. This order was a real coup for Eadies and the new owners wanted to mark this elevation in business status. They used Royal from the RSAF name and Enfield from its location to call their new range of bicycles... Royal Enfields.
A slogan was soon coined that capitalised on the robust nature of the bicycles and further heralded the RSAF connection: Made Like A Gun. This legendary motif passed onto the first Royal Enfield motorcycles when produced in 1901 and continues to this day. It was depicted as an emblem formed around a drawing of a field artillery piece and in 1913 the company took this concept one step further. They acquired an old Maxim machine gun, painted 'Royal Enfield Cycles Made Like A Gun' around its wheels and took it to exhibitions for display alongside their motorcycles.
Made Like a Gun Canon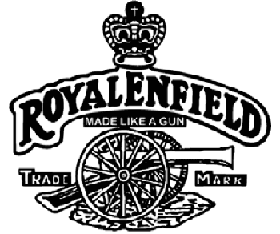 Made Like A Gun - the legendary Royal Enfield byword was coined in 1893.
Germany invaded Belgium in August 1914 and the Belgian government placed its first order for 3 hp V-twin Royal Enfields. The machines were quickly despatched to the front line. When Russia entered the war shortly afterwards, it almost immediately bought 150 Royal Enfield 6 hp V-twins. These military contracts for Royal Enfields set the precedent for further orders to French, Belgian, Russian, United States and Dominion armies.
Russian Army V-Twins 1917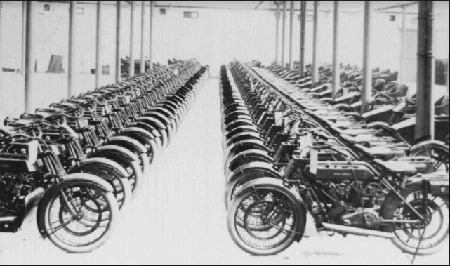 Ordered by the Imperial Russian government at the beginning of 1917, these 6 and 8 HP V-twins arrived in Moscow after the Russian revolution. They still went to war.
The British Army's use of Royal Enfields was considerable, including motorcycle ambulance outfits with the sidecars converted to stretchers. However, the machine gun sidecar was the most prominent development. In December 1914 the first Royal Enfield machines were delivered to the British Army to form the 5th Motor Machine Gun Battery. These highly manoeuvrable outfits carried Vickers machine guns mounted on a strengthened sidecar platform. Eyewitness reports from battlefields near Ypres in 1915 talk of the "invaluable service" that a battery of Royal Enfield motorcycle and machine gun outfits gave, countering wave after wave of enemy attacks.
WWI Machine Gun Platform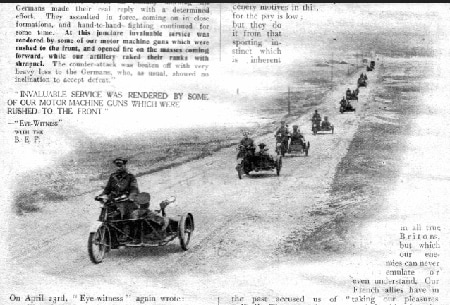 Captain J E Alkyou and Sergeant J Cocker on their Royal Enfield V-twin with Vickers machine gun.
The Great War saw motorcycles damaged and destroyed at an alarming rate, partly due to the terrible conditions and partly because of the fragile nature of these early 2-wheelers. However, the sturdy and reliable design of the Royal Enfields made them dependable and serviceable in even the most challenging of environments.
Palmers Tyre Advert with RE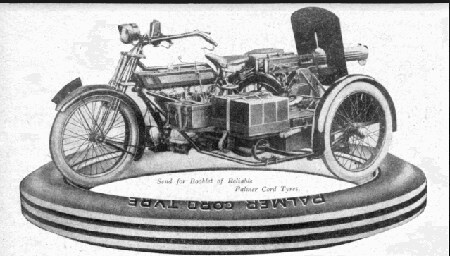 A WWI advertisement for tyres which highlights a Royal Enfield sidecar machine gun outfit.
Royal Enfield played an important role during the Second World War too. In 1940 the War Department placed large orders for 350cc Model C side-valve machines for convoy escort duties and mounts for despatch rider trainees. The Redditch factory worked day and night to meet demand and 17,600 of these workhorses went into service.
Model C Despatch Advert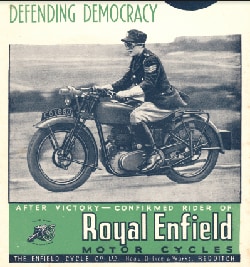 Many women were dispatch riders during WWII. This WRNS (Wren) sergeant is riding a 350cc side-valve Model C, one of 17,600 made for the War Department.
Royal Navy WD/CO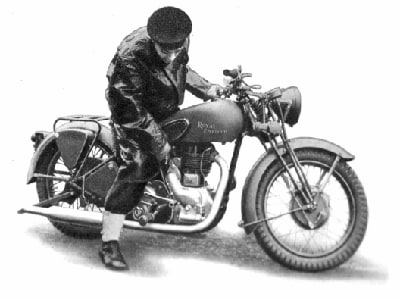 Used by RAF, Army and Navy, the 350cc OHV WD/CO saw action in all theatres of war.More than 29,000 were built at Royal Enfield's Redditch plant.
In mid-1941 a new military machine came to the fore - the 350cc Overhead Valve single cylinder Model WD/CO. More than 29,000 were built for the Army, RAF and Royal Navy and served in all theatres of the war. But it was another Royal Enfield motorcycle that became the most celebrated offering from Redditch, the 2-stroke Model WD/RE, aka the Flying Flea.
The Flying Flea closely mirrored the pre-war DKW RT although its performance was bolstered by an increase in cylinder capacity from 98cc to 126cc. Extremely lightweight, a soldier could lift it over a wall, carry it across a river and easily traverse difficult terrain. The War Office envisaged a big role for the little motorcycle, commissioning parachute drop cradles to be made by Royal Enfield so that the bike could be landed alongside paratroops of the newly formed Parachute Regiment.
Flying Flea Parachute Cradle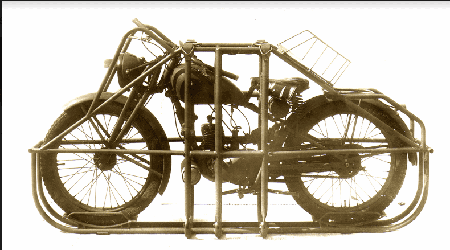 The 126cc Model WD/RE, weighing just 62 kg and capable of 40 mph. The steel parachute cradle was fabricated at a Royal Enfield facility in Edinburgh, Scotland.
Once on the ground, the Flying Flea's function was to establish communications between dispersed Airborne units, a vital task in the days of unreliable portable valve radios. Many Flying Fleas were dropped ahead of the D-Day landings and during Operation Market Garden, the largest airborne operation in history which culminated in the Battle of Arnhem. Not all were parachuted in this manner however, many were transported inside Horsa gliders and some carried ashore from Royal Navy landing craft.

Flying Flea Advert with Horsa Glider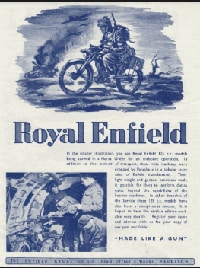 Great at traversing rough terrain, the highly manoeuvrable Flying Flea was often landed by Horsa glider. This advertisement shows Flying Fleas loaded inside a Horsa glider.
Royal Enfield has always shown adaptability, endurance and resourcefulness and this was never more evident than during WWII. The company produced oil motors for anti-aircraft guns and tank turrets, gyroscopic sights for Oerlikon guns, portable generator sets, 1000cc liquid-cooled flat-twin diesel engines, battery charging sets for use by saboteurs and the resistance in occupied Europe, and two-pound armour-piercing shells.
Anti Aircraft WWII Advert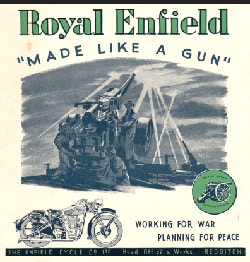 Bofors anti-aircraft guns had Royal Enfield oil motors and were guided to their targets by predictors made at the company's underground factory.
The company opened an underground factory in a converted Bath-stone mine at Upper Westwood, near Bradford-upon-Avon. Over 100 experienced engineers and workers were relocated from the Redditch factory and hundreds of trainees came from the surrounding towns. Here, Royal Enfield produced specialist instruments, in particular Kerrison anti-aircraft predictors. These mechanical computers calculated the future position of an aircraft, enabling a Bofors anti-aircraft gun crew to aim accurately.
WWII Bicycle Advert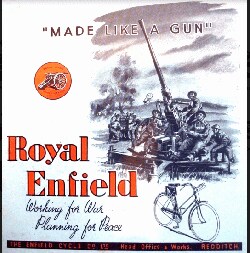 Royal Enfield made over 1000 military-specification bicycles a week during the war.
After the war this important military work continued at Westwood. In secret, it turned out precision instruments for the British Atomic Weapons Research Establishment at Aldermaston and guidance components for the Blue Streak ballistic missile programme.
Workers Exit Westwood in WWII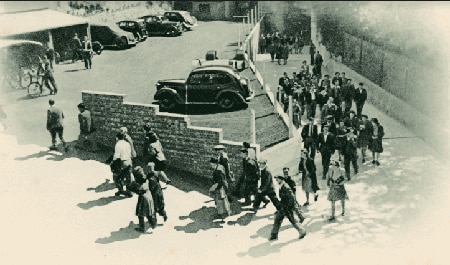 Workers leaving the Westwood mine at the end of a shift. A sophisticated ventilation system was installed and the temperature remained stable all year round.
Underground Factory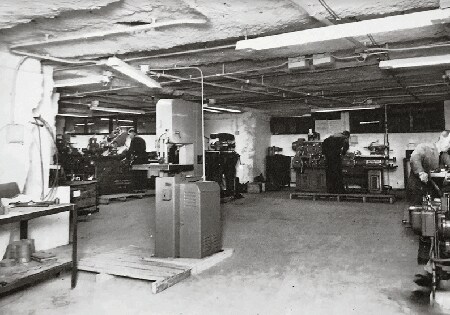 Machinists at work underground. Priceless exhibits from the Victoria & Albert Museum and British Museum in London were stored in adjoining mine shafts, safe from Luftwaffe bombing.
Then came an event which completely changed Royal Enfield's future. The first Indo-Pakistani war quickly followed Partition in 1947. Border skirmishes continued after the ceasefire, especially in the deserts of Rajasthan and the remote, mountainous region of Jammu and Kashmir. The Indian Army needed a motorcycle capable of patrolling these inhospitable tracts.

Madras Motors, formed in 1942, imported small quantities of bicycles and motorcycles from Royal Enfield. When the owners visited the Royal Enfield factory in Redditch and saw the 350cc Bullet, the first British motorcycle with swinging arm rear suspension, they were very impressed. They placed an order for 82 machines and these were despatched from the Redditch factory in November 1950. They proved themselves inimitably suitable for the harsh conditions along the frontier and disputed territories. A total of 500 machines were ordered in 1952 and then a further 700 bikes which were needed in double-quick time and ready for immediate use without the obligatory running-in period.

K R Sundaram with Indian Army Bullet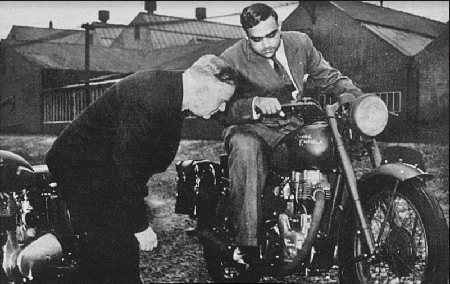 Enfield India founder, K R Sundaram, visits Redditch to inspect 350cc Bullets bound for the Indian Army.
Royal Enfield took everyone off non-essential work. Day and night, factory workers could be seen riding olive green or sand coloured Bullets speedily around the streets of Redditch. If they seized, it was back to the factory for a new cylinder and piston. If they survived, they were declared seize-proof and ready for immediate use. Two weeks later the bikes were promptly shipped to the Indian Army.
Indian Army Bullets Despatch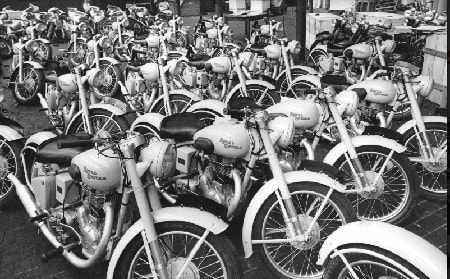 Soon to patrol India's borders, these 350cc Bullets were part of a shipment of 500 that left Redditch in 1952.
India was labour rich but had few cash reserves to pay for imported goods. With the army and civil service demanding more machines, and with the Bullet's proven track record making it an obvious choice for civilian use, the government encouraged Madras Motors to manufacture the bikes themselves. A deal was struck with the Redditch firm who became a major shareholder in the new company. In 1955 Madras Motors constructed a factory at Tiruvottiyur, 17km north of Madras city centre, and Enfield India was born.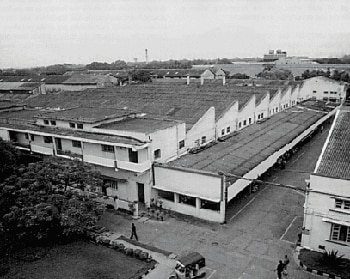 Constructed in 1955, Royal Enfield's factory at Tiruvottiyur began assembling Bullets in 1956... and continues to this day.
Small batches of Bullets were despatched from Redditch in a CKD (Completely Knocked Down) state. The new Indian factory simply assembled these machines and either fulfilled Armed Forces contracts or sold them to the public. However, the production of parts was gradually transferred to India and by the time the Redditch factory closed in 1967, only a handful of components were still being imported and replacement suppliers were soon found.

Enfields in Service


Seen here riders of the Provost Units of the Indian Armed Forces
Since then, around 1000 to 1200 350cc and 500cc Royal Enfields per year have been supplied to the Indian Army, Air Force, Navy, Border Security Force and other government departments. They are used in all manner of communications roles, escort duties, border patrols, especially where the terrain is rugged, and to provide security at public events.

2018 Republic Day BSF Women Riders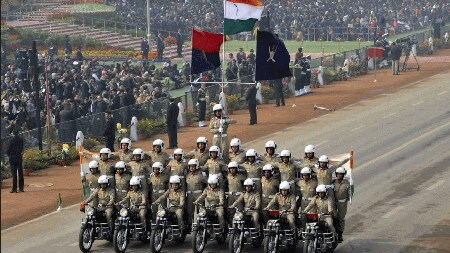 For the first time women riders of the Border Security Force put on a display at the 2018 Republic Day parade.
That proud association between Royal Enfield and the military remains. In 2017, Royal Enfield supplied 15 limited edition Classic 500 Stealth Black motorcycles to the National Security Guard (NSG) Black Cat Commandos, an elite Indian special forces unit. All were ridden on a 40 day, 8000 kilometre cross-country odyssey.
NSG - A Tribute to the Bravehearts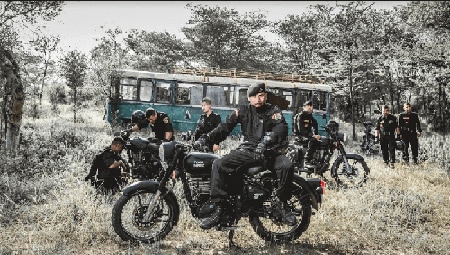 The NSG Black Cat Commandos with their Classic 500 Stealth Black motorcycles. In 2017 they rode 8000 km to promote awareness of the risks of terrorism.
In 2018, in collaboration with the British Ministry of Defence, the Classic 500 Pegasus Edition was launched at the Imperial War Museum, Duxford. Paying homage to Flying Fleas used by the Parachute Regiment during WWII, the 750 limited edition machines were badged with the Airborne Regiment's Pegasus insignia and a unique serial number stencilled on their tanks. Each machine is a piece of history, a tribute to the resilience of the company, a salute to its long-standing partnership with the armed forces, and a motorcycle that any Royal Enfield enthusiast would be proud to ride.
Pegasus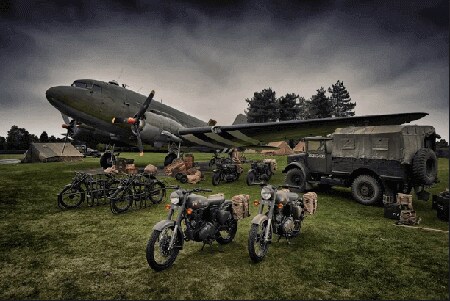 Produced in collaboration with the British Ministry of Defence, the Classic 500 Pegasus Limited Edition was launched at the Imperial War Museum, Duxford, on 21st May, 2018. Numbers are limited to 1000.
About the author:

Royal Enfield historian, Gordon G. May, has been riding Royal Enfields since 1985 when he acquired a 250cc Crusader. In 2001 he founded The Bullet-In magazine for Royal Enfield enthusiasts and has collaborated with the company on a wide variety of projects since then.
He is the author of four books on Royal Enfield, including The Legend Rides On, a lavish coffee-table book that celebrated its 50th anniversary in India. In 2008, Gordon rode his 1953 500cc Bullet from the UK to the Royal Enfield factory at Tiruvottiyur, Chennai, an 8,400 mile adventure which resulted in his first travel book, Overland To India. Two more motorcycle journeys and travel books followed and a fourth is fast approaching, this time along the Pan-American Highway on a 1952 Royal Enfield 500 Twin.
His collection of classics includes 8 Royal Enfields ranging from 1933 to 1953, although he confesses that some of them cannot yet be counted as much more than half a motorcycle. To know more visit, http://royalenfieldbooks.com/