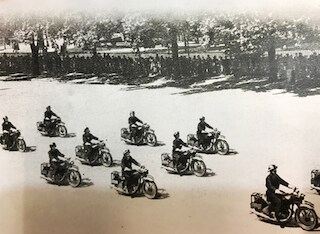 Picture Courtesy: Gordon G. May royalenfieldbooks.com
In 1942, at the height of the Second World War, a Royal Enfield underground factory was established in abandoned stone quarries at Westwood near Bradford upon Avon in rural Wiltshire. Many skilled machinists were drafted in from Redditch to make precision parts on drills, gear cutting machinery, welding rigs and capstan lathes.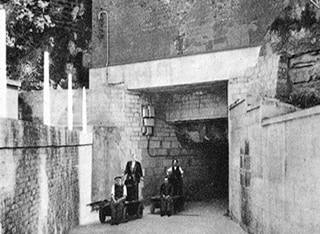 The factory entrance 
Picture Courtesy: Gordon G. May, royalenfieldbooks.com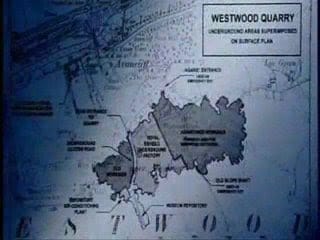 Location of the Westwood quarry 
Picture Courtesy: Gordon G. May, royalenfieldbooks.com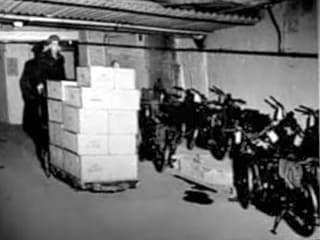 Seen here, a worker taking the museum artifacts through the motorcycle storage area inside the underground factory. 
Picture Courtesy: Gordon G. May, royalenfieldbooks.com
The factory's location in a bombproof shelter safe enough for the art of the Empire was due to the fact that Royal Enfield manufactured components for anti-aircraft guns including predictors for accurate control of anti-aircraft weapons. Other precision items produced at Westwood included oil motors for operating searchlights and Bofors anti-aircraft guns as well as pump units for operating the gun turrets of tanks. Such was the skill level at the facility that parts were also fabricated for the control mechanisms of rockets and instruments being produced for the fledgling British atomic programme.
The premises was state of the art, employing devices such as anti-smoke alarms and air-conditioning with humidity control, both unheard of back in 1942. There was even a room where workers received a much needed UV supplement, courtesy of sun lamps, as they spent so much time underground. As the majority of British men had enlisted in the armed services, most of the employees at Westwood were women and many of them had to be trained by the 'old hands' from Redditch.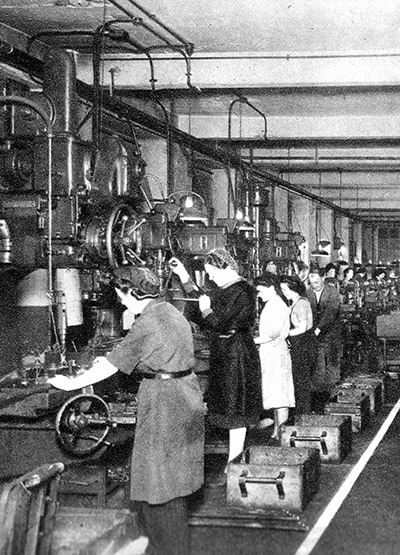 The whole of Great Britain was mobilised, using all of the nation's resources in total war. All citizens and manufacturers joined hands in the war effort and Royal Enfield was no exception, completely halting civilian motorcycle production and developing specialised military motorcycles like the 'Flying Flea'. Due to its lightweight and specially constructed parachute cage, this 126cc 2-stroke motorcycle could be dropped behind enemy lines, providing crucial mobility and communications for paratroops, most famously at the Battle of Arnhem in 1944.

Seen here, the Royal Enfield Flying Flea in action. 
Picture Courtesy: Gordon G. May, royalenfieldbooks.com
Other Royal Enfield motorcycles were much in demand by the armed forces, most notably the WD/D 250cc sidevalve, WD/C 500cc sidevalve and WD/CO 500cc overhead valve, the WD standing for War Department. These hardy machines were used extensively by Royal Corps of Signals despatch riders who were entrusted with delivering crucial messages across all theatres of war as well as back at home. 
The lives of these riders were especially in danger when close to the front line. Here they were a favourite target for enemy snipers keen to prevent the valuable messages they carried from being delivered. Riding at night, including when on convoy escort duty, was also perilous as blackout restrictions forced the riders to travel with a light no more powerful than a glowworm.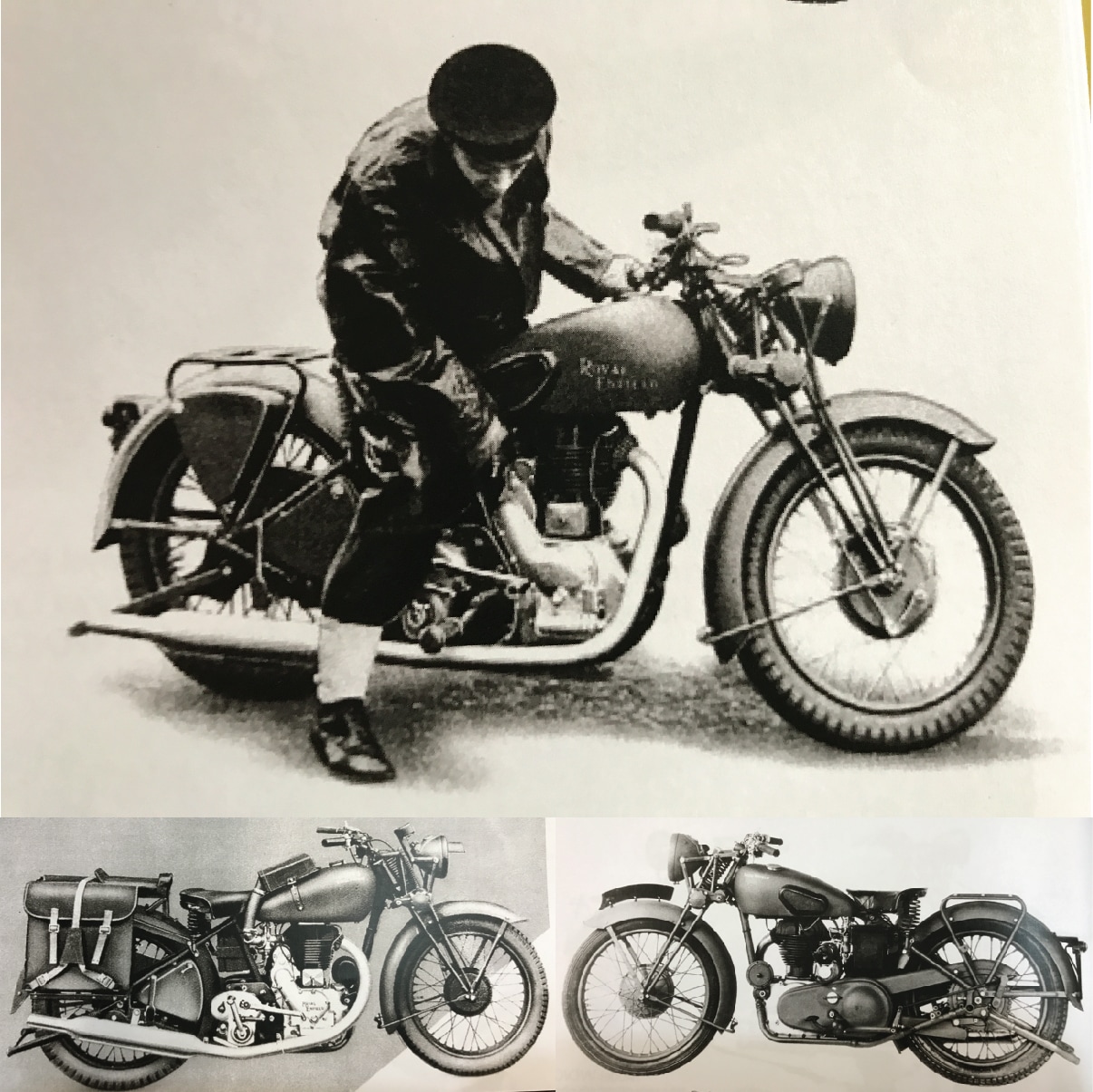 Featured here: The Royal Enfield WD/CO, a 346cc, 4-speed gearbox war horse used by the British Forces throughout the Second World War. 
Picture Courtesy: Royal Enfield, by miles the best (book) by Gordon G. May
After the war, the Royal Enfield Underground factory continued to manage parts, and eventually, complete motorcycles. Under the control of a newly formed company, Enfield Precision Engineering, the facility solely manufactured Interceptor motorcycles between 1967 and its closure in 1970.
A couple of ex-Enfield employees took over parts of Westwood and used them as a workshop for another two decades whilst in other areas, a contractor began to once more quarry stone. The storage area is still secure and to this day is being used by a private security firm as an archiving and locker facility. Some of the machines and equipment from the historic factory can still be found at the site, reminiscent of a place of Enfield.